Tonik
Coconut Oil Capsules
Description
We've got a lovely bunch of coconuts. Like, for real. Get all the glorious benefits of organic raw coconut oil without the fuss. Dry skin? Coconut oil. Lifeless hair? Coconut oil. Relationship problems? You guessed it: Coconut oil.

What is it:

In a coco-nutshell, Tonik No.1 delivers all the great benefits of organic raw coconut oil without the oily texture, taste or hassle of having to consume it.

​Our virgin coconut oil is extracted without the application of heat, chemical refining, bleaching or deodorising, so as to preserve all of the nutritional goodness of the oil.

Recommended for skin health, hair health, energy levels, cell regeneration & digestion.

Potency:

1000mg of unrefined, cold-pressed, raw organic coconut oil.

1 capsule = 1 tablespoon of coconut oil.

What it does:

Packed with numerous health-giving and beauty-boosting benefits, it made sense to squeeze this elixir of life into one powerful capsule, so you can reap all of the coconutty benefits — without slathering yourself in it daily.

Known to increase energy levels, care for skin, support hair health, boost the metabolism, aid in sleep and relieve a number of mind and body concerns.

It's basically the ancient answer to all of life's problems. You'll go nuts for it!
Supplement Facts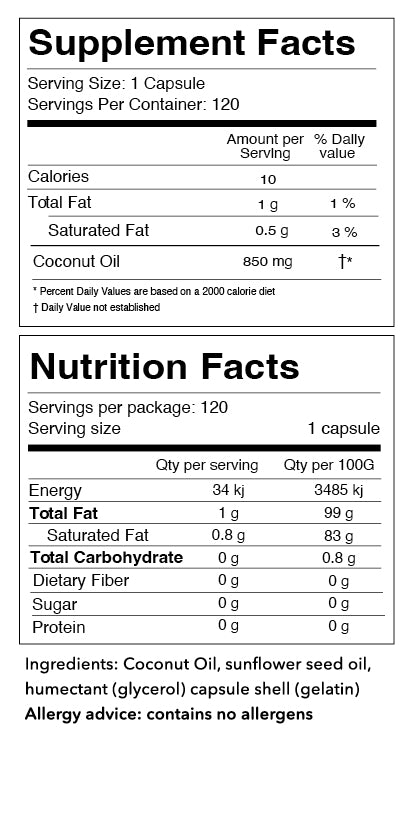 Directions
Take 2 capsules per day with a glass of water, or as directed by your health professional.
Ingredients
DOES NOT CONTAIN: Gluten, Wheat, Dairy, Lactose, Soy, Artificial colours, Artificial flavours, Artificial sweeteners, Bee products, Corn, Egg, MSG, Tree nuts, Ground nuts, Peanuts, Sulfites, Salicylates/bioactive amines.
♻︎ All Tonik products are recyclable in your normal household recycling. We use HDPE & PET recyclable plastic to reduce packaging waste. Please recycle your bottles.
Shipping
Australian Shipping - via Australia Post & Couriers Please
Standard Shipping (2-4 Business Days) FREE for all orders over $85
Express Shipping (1-2 Business Days)
International Shipping - via DHL eCommerce and DHL Express
Standard Shipping (8-15 Business Days)
International Express Shipping (3-5 Business Days)
Disclaimer
WARNINGS:
Always read the label and health warnings. Follow the directions for use. If symptoms persist, talk to your health professional. Vitamins and minerals can only be of assistance if dietary intake is inadequate.
Do not use if cap seal is broken.
Store below 25°C in a cool, dry place.
If you are pregnant, breastfeeding or have a thyroid condition, please consult a health professional before use.
* These statements have not been evaluated by the Food and Drug Administration. This product is not intended to diagnose, treat, cure or prevent any disease.



Accelerate your metabolism
by converting into energy with a powerhouse of medium-chain fatty acids.

Improve skin issues; eczema, dermatitis, psoriasis & dandruff
due to a medley of nourishing & hydrating fatty acids such as linoleic acid and lauric acid.

Strengthen your immune system
due to Lauric acid & Caprylicacid which have natural anti-bacterial, anti-viral & anti-fungal agents.

Lower the risk of heart disease & lower cholesterol levels
due to medium-chain triglycerides & lauric acid.

Promote healthy hair growth & protect against hair damage
due to a medley of nourishing & hydrating fatty acids.

by helping the body to absorb fat-soluble vitamins, calcium & magnesium.
An Advanced Formulation For Faster Absorption
Smart Design
Liquid-filled, high potency capsules swimming with water-soluble and fat-soluble nutrients in their most bioactive and bioavailable form. 
Delayed Release Capsule Design
They'll break down in your small intestine – not your stomach  – meaning max absorption and zero nausea.
Better Bioavailability
We use cold-compression technology to preserve the active properties and bioavailability of each ingredient.