Tonik
Hemp Seed Oil Capsules
Description
You could take regular fish oil. Or you could take organic hemp seed oil – nature's richest source of essential fatty acids, which is said to be oceans more nourishing and sustainable than its fishy counterpart. Hook into it, stat!

What is it:

Tonik No.4 delivers all the amazing benefits of organic, raw Hemp Seed Oil in an easy-to-take and faster absorbed capsule.

This pure golden liquid contains a powerhouse of omegas designed to promote overall health from the inside out.

Sourced from organically grown hemp seeds, delicately cold pressed and cold filtered without the use of chemicals or preservatives, Tonik No.4 capsules are the perfect ratio of omega-3 and omega-6 for a better absorption.

Recommended for hormone balance, skin health, energy levels, heart health & digestion.

Potency:

1000mg of pure, organic, concentrated hemp seed oil in each capsule.

What it does:

Hemp seed oil is considered to be one of the most nutritional and deeply nourishing oils available.

Its rich profile of nutrients, fatty acids, and useful bioactive compounds provides the body with complete protein, nutrition, and all the essential amino acids necessary for peak health and well-being.

Just a coupla' caps of Tonik No.4 in your daily routine will help support overall gut health, provide immune support, enhance energy, keep your brain sharp, boost heart health, reduce inflammation and help support the appearance of healthy skin, shiny hair and stronger nails.*

If you're struggling to incorporate fatty acids into your diet, this is possibly the easiest (and most sustainable) way to do so.

Bonus: no fishy after-taste – booyah!
Supplement Facts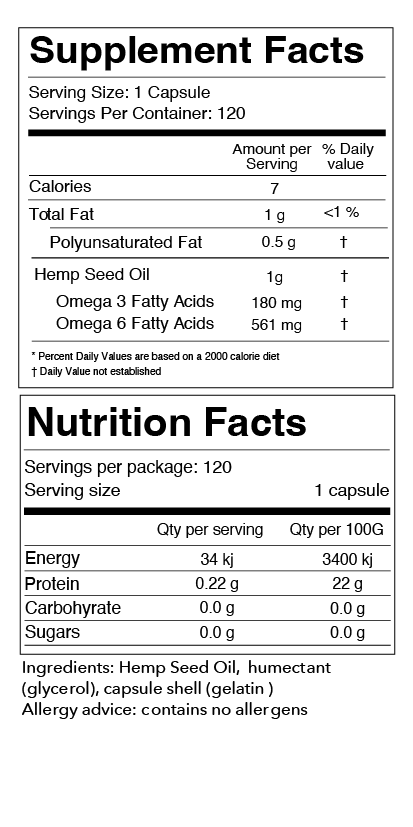 Directions
Take 2 capsules per day with a glass of water, or as directed by your health professional.
Ingredients
DOES NOT CONTAIN: Gluten, Wheat, Dairy, Lactose, Soy, Artificial colours, Artificial flavours, Artificial sweeteners, Bee products, Corn, Egg, MSG, Tree nuts, Ground nuts, Peanuts, Sulfites, Salicylates/bioactive amines.
♻︎ All Tonik products are recyclable in your normal household recycling. We use HDPE & PET recyclable plastic to reduce packaging waste. Please recycle your bottles.
Shipping
Australian Shipping - via Australia Post & Couriers Please
Standard Shipping (2-4 Business Days) FREE for all orders over $85
Express Shipping (1-2 Business Days)
International Shipping - via DHL eCommerce and DHL Express
Standard Shipping (8-15 Business Days)
International Express Shipping (3-5 Business Days)
Disclaimer
WARNINGS:
Always read the label and health warnings. Follow the directions for use. If symptoms persist, talk to your health professional. Vitamins and minerals can only be of assistance if dietary intake is inadequate.
Do not use if cap seal is broken.
Store below 25°C in a cool, dry place.
If you are pregnant, breastfeeding or have a thyroid condition, please consult a health professional before use.
* These statements have not been evaluated by the Food and Drug Administration. This product is not intended to diagnose, treat, cure or prevent any disease.



Support mental health, hormonal imbalances & menopausal health
thanks to the sunshine vitamin D3.

Assist with regenerating, nourishing & energising the skin's protective layer
using important minerals including calcium, zinc magnesium & iron.

Prevent inflammation and reduce joint pain symptoms of arthritis
using the power of GLA (Gama Linolenic Acid).

Prevent demyelination of the nervous system
thanks to cholesterol-fighting phytosterols, which helps accelerate metabolic processes.
Improve immunity and regulate intestinal flora
thanks to gut-cleansing fibre that helps feed the good probiotics in your stomach.

Assist with joint & muscle health, & relieving chronic inflammation
thanks to phenolic compounds which help eliminate free radicals in the body.
An Advanced Formulation For Faster Absorption
Smart Design
Liquid-filled, high potency capsules swimming with water-soluble and fat-soluble nutrients in their most bioactive and bioavailable form. 
Delayed Release Capsule Design
They'll break down in your small intestine – not your stomach  – meaning max absorption and zero nausea.
Better Bioavailability
We use cold-compression technology to preserve the active properties and bioavailability of each ingredient.